My 1st experience with "Divinity" happend
as a preschooler. Mumsy told me that if I didn't
behave in church Jesus would come down
off the cross and smite me. It was the first time
I'd ever been aware of the bloody man hanging
from the wall. It was also the 1st time I recall
feeling that those in authority where wacked.
Why would Jesus smite me? I'm just a little kid
goofing on the kneeling pads near the floor.
(yes Catholic)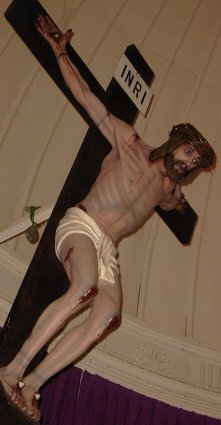 from that point on churches,religion, "holy people"
(and parents)have always kinda freaked me out.
.I dunno what I was trying to say to start with...
(gluck gluck gluck)

C'ept happy easter ya bastards!
You dont really believe that a man/god(how does that work?)
was put to death and then rose from the dead....to seal
a contract with god to save our souls?
...I wish I could...